Sunglasses

Eyeglasses

Collaborations

Extras

Stories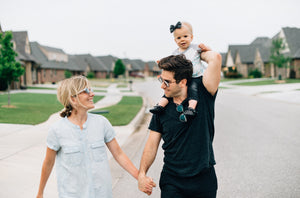 ---
Mixtape No. 20: Gary Black
---
Gary Black
Gary Black
It's no secret that here at Garrett Leight we 100% believe in a life lived passionately. Gary Black, Ryan Bowling, and Darshan Phillips of Black Optical, based out of Oklahoma, are no exception. With a few clicks on their website or Instagram, and their love for eyewear transports you into a world of thoughtfully curated frames set to fresh backdrops of sunlight, natural textures, and youth. Never mind that black is ironically the least popular color way at Black Optical! From airy, delicately oversized cateyes to stylized, thick-rimmed marble acetate frames, their selections of effortless eyewear – set alongside their lookbooks and films that would be standalone gorgeous–offer wearers the ability to experience sensibilities of the past with hints of modern relevance. If you're a fan of irony, trivia, and ironic trivia, black is actually the worst selling color at Black Optical. But I digress; below, we take a look into Gary's home and chat about what it's like to build the optical scene in Oklahoma City, and soon to be Dallas. Next time you're in town, do me a favor to keep the irony alive and pick up a pair of non-black frames–from none other than
Black Optical, of course.

Your roots date back to working at Sunglass Hut at the age of 17; could you share more your journey since then, and how you grew to start Black Optical? My first and only tax-paying job is selling eyewear. I realized early on I didn't want to be a starving artist, and I was a natural at fitting sun/eyeglasses. That said, I decided to drop out of college and 'build a career' at Sunglass Hut. But after eleven years, I realized it was not the place for me. I briefly considered going back to college and studying to become an architect, but the idea of being a 28-year-old college kid didn't sound that appealing. That was when Black Optical was born. After eight years, I'm completely happy I chose this path. Any frames that you can't take your eyes off of at the moment? I have a big-time crush on the GLCO Valita, please don't tell my wife.
I gravitate towards styles influenced by the past, while refining upon what came before.
---