Sunglasses

Eyeglasses

Collaborations

Extras

Stories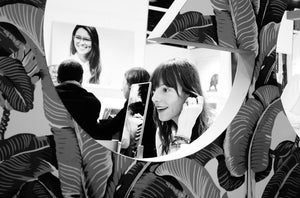 ---
---
Another successful European trade show season culminated in Milan this past weekend as we gathered with our GLCO family of reps, distributors and of course accounts at the Mido Trade Fair. For those of you that don't know there are three big European eyewear shows in a year, two in the Winter/Spring and one in the Fall spanning over three cities (Munich, Milan, & Paris). The Milan show is a creator's heaven with every big vendor you could imagine showcasing their talents from lens manufacturers to frame manufacturers and everything in between - cases, cloths, optical tools, sales kits, and a lot more. Because of its location, Milan attracts a lot of accounts from neighboring countries like Spain, Turkey, Greece, and others. Maybe not exactly neighbors, but all those countries just to the South, East and West of Italy. Whereas the Munich show is very German and a little bit Swiss. And the show in Paris is all encompassing!
Here you can see our fabulous Sales Director Charles Wolfe walking through the collection with our new sales agents from Portugal. Maybe this will finally give me an excuse to visit the white sands of Portugal, as if I needed one before!
Elena Doukas likes to tell it like it is, here she is explaining how she's starting to do her own taxes!
Agnes Gorter has held it down for Benelux for the past year. A truly special part of the GLCO team.
Still rocking that banana leaf exterior.
Doukas and more tax explanations with COO Lynn Plummer.
"I'm gonna do my taxes like a grown ass woman, I don't need my maaaammmyy and daaaaddddyyy." (Sorry for the inside joke, I guess you just have to start watching Broad City).
So, Markus' girlfriend's mother baked us around 500 brownies with the GLCO logo on top. The customers actually loved them quite a bit.
Elena handling an interview for GLCO… and that's all from Milan folks. Thanks to the team and supporters of GLCO, we appreciate the love, we couldn't do it without you. Looking forward to September when we see you all in Paris for the real craziness that is Silmo!
---