Sunglasses

Eyeglasses

Collaborations

Extras

Stories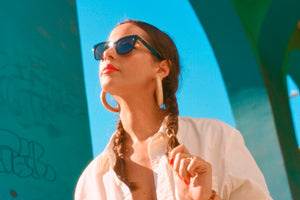 ---
---
Years connected to GLCO:
Connected since the beginning!
Occupation:
Creative Consultant/Interior Designer
I met Garret at the A. Kinney Court store opening party. DJ Osamu brought me. I guess I was in a lot of the photos and Garret was like: Who's this girl? That was ten years ago. Then we found out we grew up on the same street and his mom and my dad went to high school together. So we have a little bit of that old school Venice history. I appreciate how he kept it real. You know, with naming the frames after streets in Venice to really capturing the vibe and the history of the community and getting to know the locals and the people who were here before us. He does that. And he keeps us all together.
---