Sunglasses

Eyeglasses

Collaborations

Extras

Stories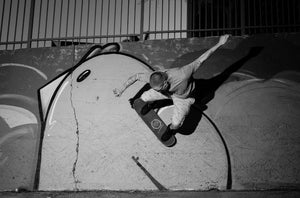 ---
Mixtape No. 18: Jimmy Gorecki
Photos: Mike Selsky
Words: Patrick J. Canale
---
Jimmy Gorecki
Jimmy Gorecki
In the late 1990's and early 2000's, skateboarding was not yet on the mainstream radar — especially on the East Coast, which was still the hinterland for the West Coast-based skate industry. It wasn't for lack of talent, but even the best from back east struggled to get coverage in major magazines like Thrasher, making it even harder to find sponsors and earn a living doing what they loved. In spite of drawing the short straw by being outside the hubs of San Francisco, San Diego, and Los Angeles, the brightest talents still shone through, coming up the hard way.
As skateboarding
boomed in the 2000's,
Jimmy Gorecki was
hand-picked to ride.
As more Eastern skaters got exposure in skate media, the capital of East Coast skateboarding became Philadelphia. The scene there centered around Love Park, an urban plaza that — completely unknown to its designers — proved to be a perfect skatepark. Videos of Love Park's stairs, rails, and ledges made legends of local heavies like Ricky Oyola, Matt Reason, and Stevie Williams, who became internationally known and very profitable pro skaters. Under their example, the next generation blossomed at Love Park's training grounds. As skateboarding's national popularity boomed in the 2000's, and the style and talent of the East's underground scene came into the spotlight, teenage Jimmy Gorecki at the time was hand-picked by the legendary Sal Barbier to ride for his company. Aesthetics Skateboards was a perfect fit for Gorecki, who became known for bringing his spotless style to the grimiest spots in Philly.

You're always up to ten different things. How many gigs do you have? Currently, I'm marketing director at Gourmet, judging Street League Skateboarding, and slowly learning the tricks of the trade building a fleece-focused brand called JSP. In all honesty, if there were more hours in the day I'd probably take on another gig. Why did you start your own sweatpants brand? Was the world dressing too formally for you? JSP was just a bit of novelty thing… Just wanted to do something that paid homage to that Aesthetics era in skateboarding. I always aspired to be like the pros from that period. A large portion of their influence on me was their attire. That's where skateboarding, fashion, and music all blended together and it's an era that's very dear to me. I wanted to do this one-off thing that paid homage to that. It ended up being something a lot of people responded to. I like wearing jeans and chinos as much as anyone else but there's also something very cool to me about how sweats sit on a sneaker.
What differentiates JSP? I think the main thing is just the original idea. A lot of brands have gotten heavy into fleece now. A lot of them do it very well. Clean, sophisticated, very grown up. I personally enjoy those brands that keep it fitted as much as the ones that build sweats more loose fitting and relaxed. However, what I think differentiates JSP from others is just that truly represents a time period in skateboarding that is very important to me.

How would you characterize yourself, if you were being totally honest? Hardworking, humble, and compassionate. My mom always taught me: never wait for things, get out and do them. At the same time, when things are going good, always stay grounded and level. There are always people doing a hundred times better that you can strive to be like, whether professionally or just being a good person. On the flip side, appreciate what you do have because not everyone's circumstances are that good.
My mom always taught me: never wait for things, get out and do them.
How did you end up in LA? Over the years, skating always brought me back, whether it be sponsors, videos, magazines, or just friends. Between 2000 and 2007 I came back as much I could, just skating. In 2008, I got on Pharrell's Ice Cream skate team, and while shooting an MTV pilot about it, Jackass director and Dickhouse Productions head Jeff Termaine reached out to me to help a buddy of his that was directing a Disney pilot about a couple of kids that skated. They brought me in as a technical consultant. We shot the pilot and two months later the network picked it for a three-season deal. I didn't know anything about television production but I soaked it up quickly and figured it out. Before I knew it, almost four years went by shooting every day down in Torrance.

The hands on the clock rotate especially quickly for skateboarders, but Jimmy never had a problem flowing through transitions. Though he may no longer skate for a living, he still lives like a skater: always ready to improvise and stamp his style onto any opportunity that comes his way. These days that includes staying ahead of trends with Gourmet Footwear and his eponymous sweatpant brand, Jimmy Sweatpants — when he's not moving around the globe as a judge on the Nike SB Street League Skateboarding World Tour. A true product of his environment, Gorecki still does it for the love.
---