Sunglasses

Eyeglasses

Collaborations

Extras

Stories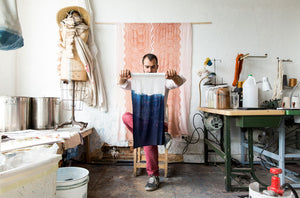 ---
Esprit de Corps ft. Graham Keegan
Photos; Julia Stotz
Words: Natalie So
---
featuring Graham Keegan
Graham Keegan is obsessed with beach forts — a playful application of his love for textiles. He builds a new one every year with his own hand-dyed fabric, tent poles, and stakes: he recently set up a coral red, gray, and olive green patchwork of Bedouin sea tents in Malibu. Graham has worked as a screen printer, bag designer, and set designer, but he identifies mostly as a textile designer. Graham also has an intense affinity for plants. The sidewalk outside his studio is an entire catalog of nostalgia in plant form. Among the mnemonic foliage are an avocado tree from the first seed he planted in Los Angeles, aloe from his ex-girlfriend's house, indigo seedlings that he sells, hollyhock in honor of a friend who passed away, and Patrick Dempsey's lemon tree (from his first job as a gardener).

Inside his studio, the sour odor of vinegar lingers in the air. In one corner sits a study for a gargantuan elliptical vat that Graham is currently prototyping. Graham was inspired by Georgian clay wine barrels, and hopes to expand production to an industrial scale. Even if the prototype doesn't work, he is convinced that mistakes are actually successes — they allow him to ask more specific questions and move forward with new information. A self-proclaimed autodidact, he takes pleasure in an experimental, trial-and-error process that verges on the scie tific. In doing so, he figures out what works and what doesn't, and where to go from here.
Esprit de Corps
The Esprit de Corps series explores the creative camaraderie and communion of Adi Goodrich, Sean Pecknold, Eric Johnson, Graham Keegan, and Stephanie Gonot. Despite the multiple degrees of separation that urban living in Los Angeles seems to enforce, they have found what might be most rare and desired in any city: the sense of belonging to a community.
---