Sunglasses

Eyeglasses

Collaborations

Extras

Stories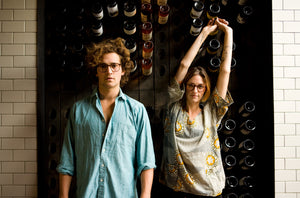 ---
Gjelina
Features /June
Words: Garrett Leight
Collaborator Photos: Josh Spencer
---
Before the Venice I once knew there was a Venice that my parents once knew and even a Venice that their parents once knew. Growing up in this community instills a likeness to the community that cannot be replicated. With the ever changing landscape that continues to evolve in Venice, for better or worse, it seems to be the debate of many of the locals that refuse to change with the times. That said, when we opened our store on Abbot Kinney in 2009, right next door to Gjelina, there was a distinct energy and feeling that washed over you while aimlessly wandering Abbot Kinney that is completely unique to 2009 on Abbot Kinney Blvd. What I loved and respected most about Gjelina was the comforting approach they took to servicing the locals.
It was more than just them making a point to allow room for walk-ins from the community, and never being fully booked. They hired all locals, who either walked or rode their bikes to work, so as not to take parking away from residents of the neighborhood and guests of Venice. Needless to say their incredible food and architecture being a huge draw for many patrons. They were clearly a family, and were painfully passionate and thoroughly enjoyed what they were doing, in fact they still do to this day. But, it will never be the same as it was the beginning, it isn't for anything or anyone, that's what makes the journey so special. At the time we launched our collection in late 2010, it made perfect sense to ask our neighbors next door to let us come in early one morning before the restaurant opened to the public to shoot the staff, our friends, as they were setting up.
Featuring: Ceara McAuliffe, Helen Nishimura, Dom DeRouen, Spencer Falls, Sean Ward, Joe Lemieux, Stephanie Johnson, Ruby Corley, Sita Young, & Oscar Lusth.
Styling: Helen Nishimura
Hair & Makeup: Victoria Aaron
Location: Gjelina - Venice, Ca.
---