Sunglasses

Eyeglasses

Collaborations

Extras

Stories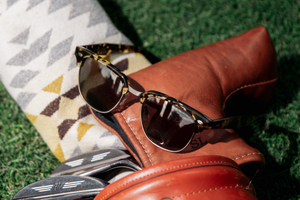 ---
Elkgrove
Elkgrove is an homage to legendary golf pro Chi Chi Rodriguez and his inimitable style.
---
Even though his professional golf career started way back in 1960, Juan Antonio "Chi Chi" Rodriguez's influence on the sport and the culture that surrounds it continues to this day. Unlike his more buttoned up peers, Chi Chi was a showman and a performance artist both on and off the course.
Amongst his most famous moves was his "matador" routine, where Rodriguez would mimic the swordplay of a matador after making a successful put. The bit originally started with Rodriguez throwing his colorful fedoras over the hole, but after too many course owners complained that this ruined their carefully manicured grounds, he decided that waving his putter like a sword and then sheathing it after a successful "kill" was more dramatic and entertaining. The fans ate it up.
"It's tough to be a golf fan because they can't speak and they can't cough and they have to be quiet all the time — but they still pay good money to be there watching you and so you need to give them the best possible show," said Rodriguez when asked about this trademark flamboyance. "And besides, everyone wanted to dress and act like [legendary but understated golf pro] Ben Hogan. I wanted to compete only with myself and do things my way."
With over 22 wins on the Champions Tour, plus 8 PGA Tour wins between 1963 and 1979, Chi Chi was a fixture on televised golf tournaments and made sure to take advantage of every opportunity to stand out and make an impression. Instead of sporting the more traditional "East Coast" plaids and muted color palette of his contemporaries, he favored bright hats and tropical colors inspired by his native Puerto Rico. It's funny to think of golfers being sartorial icons, but if anyone can claim to be the most stylish golfer of all time, it's definitely Chi Chi.
Our Elkgrove Sun frame, which we produced in partnership with iconic golf brand Footjoy, is our homage to Mr. Rodriguez and his inimitable style. Its oversized frame is composed of elements of some of our most popular models. The deep square lenses, which are made from biodegradable acetate, are inspired by our Brooks frame, while the plaque comes from the Harding and the temples draw from Wayfarer-esque vibes of the Calabar. Easygoing but with lots of personality thanks to its unique browline and oversized silhouette, the Elkgrove is distinctive in all the right ways. We can't say that wearing them will make you a bonafide golf legend, but you will definitely look the part.
---