Sunglasses

Eyeglasses

Collaborations

Extras

Stories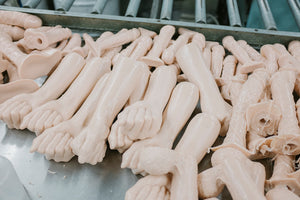 ---
Doc Johnson
Features /November
Words: Ron Moon
Collaborator Photos: Ian Flanigan
---
My Dick is My Temple

My dick is my temple. Even before I had the slightest idea about how it worked, the power it possessed, or the respect it commanded, I was — and still am — obsessed with my cock. All males are. And why shouldn't we be? Just look at them: equal parts silly and solemn, each shaped with the uniqueness of snowflakes and capable of burgeoning to astonishment or retracting to embarrassment. Dicks are the truest extension of a man's personality. From Egyptian obelisks and Greek columns to skyscrapers and rocket ships, the phallic form has represented power since the dawn of mankind. The penis is literally a physical fountain of life! But at the end of the day, men love their peckers for one simple reason: it's our oldest toy. We've been frolicking with them in one form or another since first gaining fine motor skills. So it should come as no surprise that sex toys are a $15 billion industry, one that I feel a special kinship with – not because I myself am a goddamn animal, but because we both spawn from the Porn Capital of the World, the San Fernando Valley.


Growing up in the Valley, we never really questioned its affiliation with porn. It was an unspoken understanding, a mainstay. The Valley: strip mall bars, good falafel, and porn. But when you think about it, it makes perfect sense. Located just twenty miles north of Hollywood, the Valley's proximity helped create a main vein of talent. In the 1960s and 70s pornography offered particularly attractive job prospects as studios began shipping larger productions abroad and the mainstream television and film industries dried up. With hidden studios and easy talent, industry professionals concluded that the sun-drenched suburban enclave was the perfect place for the sticky underbelly of entertainment. Along came a thickset Cleveland man named Ron Braverman. Ron was no spring chicken to the game, previously partnering with the infamous Reuben Sturman, the "Walt Disney of porn." Sturman was a Jewish gangster with heavy mob affiliations and an empire of pornography distribution channels. Braverman was running Sturman's European enterprise when it dawned on him that the booming sex toy market in Europe could be the next big thing in the States. So in 1976 he made the exodus to the Valley. He purchased Marche Manufacturing, a rubber molding business on Lankershim Boulevard that specialized in Halloween masks. Braverman trashed the mask molds, started pouring rubber into cock molds and renamed the factory Doc Johnson.




With no competition, Doc Johnson penetrated the scene, both in sheer volume and innovation. They were the first company to put their cocks in a clamshell and wrap them in branded packaging with catchy names. In 1980, they created the world's first porn-star-molded masturbator. In '93 Ron developed and released the legendary Pocket Rocket, now part of the American lexicon. In '02 the biggest porn star in the world, Jenna Jameson, signed an exclusive toy deal. And just to stifle any looming concerns, in '15 they finally received PETA certification. When I had the opportunity to tour the grounds of Doc Johnson, I almost felt as if it were my birthright. I arrived at the six acre compound located in a North Hollywood industrial park and was ushered into a conference room that doubled as a showroom. The walls were covered with the company's latest and greatest products: dongs, dildos, strokers, masturbators, vacuum-action penis pumps, pegging kits, kink rings and fucking machines capable of up to 195 strokes a minute. I felt like I was in the Lawn and Garden section of Home Depot.




I was greeted by Chad Braverman, Ron's only child and the newly tapped COO and CCO of Doc Johnson. Chad's a smart, handsome fellow and the absolute antithesis of nepotism. He started off on the bottom and finished on top. He worked summers in the stockroom and hustled his way from the shipping department to the sales floor and eventually to an executive role. It's obvious that Chad not only earned his position here but truly loves it. He led me from item to item, boasting of his products with the confidence and tenacity of a worship pastor. The Bravermans are adamantly against the term "sex toy," insisting that they make "pleasure products – crucial tools used to help people connect with their bodies, and more importantly, with their partners." After five minutes of hearing Chad's sermon, besieged by instruments of penetration, I was a believer. I was stopped dead in my tracks, utterly flummoxed, as he led us through large double doors and into the main factory. Chad was still speaking, but to me it sounded like he was underwater. I couldn't hear shit, all I saw were dicks. Dicks everywhere. If animals were dicks, this was Noah's Arc. It was sensory overload. Garrett leaned into me and asked, "Are you shocked?" to which I quietly and calmly replied, "I think I'd be a fucking psychopath if I wasn't." To our right was a wall twenty feet high and forty feet long of bronze dick molds – row after row, thousands of them. An army of gleaming copper cocks, standing to attention, seemingly ready to goose-step their way into battle. Walking past The Great Wall of Dong, we were flanked by plastic containers full of rubber schlongs fresh off the press, cooled off and hand finished to perfection. The assembly line of working women clad in white hair nets and lab coats was reminiscent of Willy Wonka's chocolate factory (and yes, some of their products are edible). For all I know, they might have been singing a song in harmony; I couldn't hear a damn thing. With over 500 employees producing upwards of 2,000 products and shipping an average of five containers a day, make no mistake about it: Doc Johnson is the General Motors of pleasure products.




Much like many other successful businesses, Doc Johnson survives on the strength of its employees and their loyalty and passion. Chad introduced me to Anjani, a Colombian sculptor who was putting the finishing touches on a large Smurf-blue penis. Anjani began her career designing buddhas and gods and for the past twenty years she's continued to design figures that make millions scream, "Oh God!" "Oh nice," said Francois as he walked up and admired her work. Francois is a Frenchman who studied Industrial Design at the Art Center College of Design. His passion for designing adult toys is palpable – he loves his job. His dreams of designing children's toys are long gone. In the laboratory we met Rolando, Doc Johnson's in-house, self-taught chemist. Rolando's sole duties are to analyze organic and inorganic compounds to determine chemical and physical properties and induce changes in composition of substances. Basically, he makes fake dicks feel like real dicks. At the end of the day Doc Johnson is simply a great American business. Sure, their hottest product is Sasha Grey's Cream Pie Pocket Pussy, but their best selling item is a battery, just a regular battery. They're a family operation that has manufactured its products domestically for over four decades. It might take you about an hour to get past the shock factor, but the fact that over fifty employees have been there longer than twenty years is a testament to the company's fortitude in such a volatile and murky marketplace. The Bravermans have built a clean, professional and beautiful empire of pleasure products, so well organized it's the sort of place that rewards meandering.




At one point, I saw a double penetration dildo longer than my forearm and a butt. Literally just a butt. No other way to describe it – no limbs, no torso, slightly perked up, with a gaping penetration cavity that just stared at me menacingly. Later, I found myself in some sort of butt plug sector, with rows and rows of pacifier-like anal ticklers ranging in a rainbow of colors, shapes and sizes. I slowly paced up and down the aisles, hands behind my back as if browsing the floor of a Porsche dealership, so caught up in the moment I just couldn't help but try to gauge which of these devices would fit up my ass. That's when it dawned on me – this factory had broken me, and that wasn't a bad thing. In this country we've been led to believe that sex is taboo, that pleasure is taboo. Truth be told, we would all be a little better off if our nation could come together in the San Fernando Valley and stare at that magnificent wall of dicks.


---