Sunglasses

Eyeglasses

Collaborations

Extras

Stories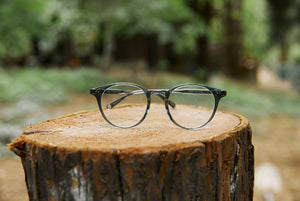 ---
Clune
The classics never go out of style, but that doesn't mean that they can't be reinterpreted and improved every now and again. Our best-selling P3-inspired Clune frame is a stone cold American classic that will always stand the test of time.
Words: Elliot Aronow
---
Our best-selling Clune frame is our version of the Fender Stratocaster or the In 'N' Out Double Double, a stone cold American classic that will always stand the test of time.
Like a lot of pieces of beloved American fashion (think: blue jeans or Motorcycle jackets), the roots of the old school P3 frames that inspired the Clune are more functional than sartorial. While they were later made fashionable by icons including James Dean and Grace Kelly, P3 frames were initially designed by the military for nearsighted soldiers to wear under their gas masks. The rounded shape helped to create extra visibility when its wearer needed it most and the higher temple mount allowed for the wearer's eyes to be seen from the side, a valuable detail when you are working with your teammates scanning the landscape for enemy fire.
Unsurprisingly, the P3 was later adopted by peaceniks and musicians like John Lennon and Morrissey (and Ghandi!) as a subversive showing of solidarity with oppressed peoples all over the world. Hip actors including Samuel L. Jackson, Emma Stone, and Blade Runner-era Harrison Ford have also been seen sporting the style.
Inspired by the modernist curves and timeless rounded silhouette of a classic P3 frame, the Clune is available in both optical or sun styles. It's also available with a foldable sun clip that allows you to instantly transform your prescription frames into a pair of sunglasses.
We designed the Clune to be universally flattering to all skin tones - it's available in over 20+ colors across the entire range of frames - and face shapes. It's even available in a size 41, perfect for smaller faces of all ages.
SHOP THIS STORY
---