Sunglasses

Eyeglasses

Collaborations

Extras

Stories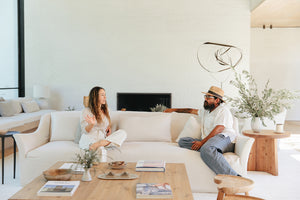 ---
California Scheming with Jenni Kayne
---
Jenni Kayne has become synonymous with classic California-living. The fashion, home, and lifestyle brand focuses on high-quality essentials in airy, neutral color palettes — a principle designed to ease the clutter in your closet and home, and thus, mind. While the brand is at the forefront of easy coastal living, the woman behind the vision and its namesake maintains a decidedly private life. I sat down with Jenni on a sunny afternoon at her Brentwood home she co-created with Belgian architect Vincent Van Duysen for a conversation, founder to founder, on how she turned her childhood dream into a successful enterprise.
Garrett Leight: What inspired you to do what you do?
Jenni Kayne: My mom took me to a fashion show when I was eight and I still remember what I was wearing: a little velvet outfit. It was the early '90s and it was a Chanel charity fashion show. Linda Evangelista was in it and I just was like… my jaw dropped, and I knew from that moment that I wanted to be a designer. So, I worked and finished school early, started in the industry when I was 17 and then started my own business when I was 19.
Garrett Leight: Did you just learn it all yourself? Did you take any classes?
Jenni Kayne: I went to Otis for a minute, but truly, I never loved school and I really learned from experience. I worked for some designers that are no longer around. I helped them buy for their stores — I went to Europe and was buying Galliano and Gaultier and Miu Miu and all these amazing brands. The lady I worked for also had a small line so I helped her kind of produce and design it. It was through trial and error and I just knew that's what I wanted to do. I think I was so young and naive that I didn't really realize what it would entail. So in a way the fearlessness drove me to do something that I probably never would have done now.
Garrett Leight: How did you go about launching the brand?
Jenni Kayne: It started like a traditional wholesale business, you know, showing four times a year in New York. But after having children and in 2008, seeing how I was not in control of my business and I was not as close to my customer as I wanted to be, I really was inspired to open a store. So I opened 14 years ago and I just had so much fun designing the store, buying for the store, being involved in the store, working out the back of the store and getting to know my customer. That really kind of changed the course of my business. For me it was about getting as close to the customer as possible and finding out what women wanted from me and helping women live well. And that was the first step. The ethos of Jenni Kayne is helping women live well and live beautifully.
Garrett Leight: Were you just apparel in the beginning or was the brand always a full lifestyle experience?
Jenni Kayne: I launched as a traditional wholesale business but I always wanted to be a lifestyle business and I wanted to be like the younger version of Ralph Lauren or Donna Karan. Not in terms of aesthetic but in terms of what they built. I really believed that we would get there but, you know, you only have so much bandwidth and you can only do what your team can support. So not until the past couple of years was I able to go into these other categories like furniture and accessories. Shoes came much earlier and is kind of what built the brand in terms of awareness and got my name out there a lot more.
Garrett Leight: You launched about the same time I did and it was during a financial crisis era. How do you think that played a role?
Jenni Kayne: I was really hungry and I was really ambitious. I think we've been around almost 20 years now and there's ebbs and flows. I think just being able to pull back when you need to and then press the gas when you can, that can keep you alive.
Garrett Leight: So if you've been around 20 years, you obviously did not launch with e-commerce. How much is e-commerce a part of your business now?
Jenni Kayne: We launched with a wholesale-only strategy selling to the 20 best stores in the country. I don't even remember when e-commerce came to be, but the goal was to create an online store that would give our customers the same feeling you would get when you would walk into a Jenni Kayne store. I asked my team, how can we get as close to that as possible online and reach our customers? I would say once we figured out the formula and how to execute it, it completely changed my business.
Garrett Leight: Do you feel like you're still learning the digital space, or do you feel like an expert?
Jenni Kayne: I don't think I'm an expert at anything digitally. I call myself a dinosaur. I just learned how to do my calendar online, like how to sync with my kids and everything. But my philosophy in running my business is always hire people that are better than you at the roles that you need and empower them. I don't like to micromanage. I'm super fortunate that I have an amazing team that is doing all the digital and I feel like they're young and awesome and smart. And I've reaped the benefits of having them around.
Garrett Leight: I feel like the brand has really taken shape over the past few years with the introduction of all the lifestyle categories from home to furniture and everything else. For me, visually, I can really see the California lifestyle through the Jenni Kayne lens now more than ever.
Jenni Kayne: Totally, yeah. Thank you. I think I've always had this vision of a "Jenni Kayne" lifestyle, and of living effortlessly. This kind of California-feel, supernatural, clean, timeless, but it's hard. It's like I had all the ingredients, but to tackle it all and then to market it and get it out, really took my team spending a ton of time with me to be like, "Okay, these are the categories we're going to go into and here's how we're going to tell the story." And they took all the ideas that I've always had or things I've always wanted to make and they've created this beautiful world.
Garrett Leight: You have a great team then.
Jenni Kayne: Thank God.
Garrett Leight: Every designer's favorite question, where do you draw your inspiration?
Jenni Kayne: Yeah, so I think actually one of the hardest things is when you have interviews and people are like what inspires you? I think it's innate, like it's in me and it's really hard to explain why I think this all works together, but I'm so visual that I just see it. If I could figure out where I'm normally inspired, it's mostly nature, it's traveling. It's like when I'm able to be quiet and not stressed. Which is why having an incredible team is so important because being a working mom, I have all of these animals everywhere and putting it all together and having time to take care of myself, it's a lot. And if I'm not feeling good and if I'm not feeling quiet and centered, then I don't find that I am as inspired.
Garrett Leight: I definitely relate to that. Sometimes it's so hard to know where you're even at. Like you're in it and you don't even realize it. Do you feel you have seen significant changes in your customer over 14 years from what they wanted then or what they want now?
Jenni Kayne: I think it's pretty consistent what women want from me. I think they want beautiful basics that will stand the test of time. I think texture and the way things feel and the way you feel when you put them on is really important. But, yeah, silhouettes change, color changes, all of that. But I think the DNA is very much the same.
Garrett Leight: I feel like you do a really good job of living a private lifestyle in terms of who Jenni Kayne is, the individual.
Jenni Kayne: Mm-hmm.
Garrett Leight: Like you don't have, that I'm aware of, a personal Instagram and things of that nature.
Jenni Kayne: I do and it's very personal and it's very small and private.
Garrett Leight: But then I also feel like if you speak to someone who's a big fan of the brand, I feel like they probably say they feel like they know you. What do you attribute that to? How have you been able to make sure your customer has a connection to Jenni Kayne, the person. And whatever that magic is, please tell me, because I want to do it.
Jenni Kayne: So, I started a blog on our site and that's really where we created all the content. It was everything that I was inspired by about living well. Wellness, cooking, and all my favorite things to buy. What was paramount to me is that it was authentic and that it never felt like you were cashing in on it. We started getting more and more followers and then it became a part of the brand. It was called Rip and Tan. It's now integrated into the website and we use it to tell stories and create content. For the first couple of years, I really did all of it and was really passionate about it. I think that's just been kind of a thoroughfare, it's like, as my life has changed I've become more inspired in different parts of the business. So where it was fashion, then it was accessories, then it was the blog because I was really into cooking and creating a home, and then it was furniture, and now I'm reinvested in the clothing. It just ebbs and flows. But I think to my point, I put myself out there a lot in that way but I never had comments. I was very in control of what I was showing people but also was super authentic. So that was my way of kind of getting in front of the camera.
Garrett Leight: So you were featured in it?
Jenni Kayne: Yes, definitely. But in terms of being more public, I really am not super comfortable with that and that's been a balance and a dance for a long time. I'm quiet. I love my privacy. I like my anonymity. I mean, even just having Architectural Digest come out which was really exciting and great for the brand. I said to Richard [Jenni's husband], "I feel like I'm standing naked in my living room."
Garrett Leight: It's so much harder nowadays too. I mean, I know you know how important it is but you built the whole foundation of your audience on this blog from that era and those customers will stay with you forever.
Jenni Kayne: Yes.
Garrett Leight: But as you grow older and evolve and maybe don't want to do that, how much can the brand continue to grow without you doing that?
Jenni Kayne: Totally. It's a challenging thing. There's no way to answer that. I feel like the team has a good formula where the brand can stand without me, but I'm also very much needed.
Garrett Leight: Do you ever wonder how you'll maybe one day be able to transition? Not necessarily from working, but at what point is the brand big enough to where it doesn't need Jenni?
Jenni Kayne: Right. I would like to think that eventually the brand will get large enough that we'll have such an incredible team that if I want to step back in some capacity, I would be able to. If you had told my 19 year old self that the brand would be what it is today, would I have named it my name? Probably not.
Garrett Leight: That was my next question.
Jenni Kayne: I probably would've said, you don't have to do this.
Garrett Leight: Same.
Jenni Kayne: I mean, if the brand ever evolved into something else where it was sold or something, it does make me feel slightly nervous.
Garrett Leight: Yeah. I get anxiety about it.
Jenni Kayne: Yeah, I'm a Virgo. I like to control the outcome.
Garrett Leight: Got it. I'm an Aries so I think that makes me stubborn.
Jenni Kayne: Ripley [Jenni's daughter] is an Aries too.
Garrett Leight: Lucky you.
Jenni Kayne: Stubborn. [chuckles]
Garrett Leight: So, my last questions here: where do you see the brand going and what's your vision for the future?
Jenni Kayne: I think the sky's the limit. I would just like to be on as many women as possible and create a lifestyle that women can bring into their lives from what they're wearing, to how they're setting their table, to how they're decorating their home. So more stores, more eyes, more people, and more categories.
Garrett Leight: Amazing. I think you'll reach all your goals.
Jenni Kayne: Thanks!
---