Sunglasses

Eyeglasses

Collaborations

Extras

Stories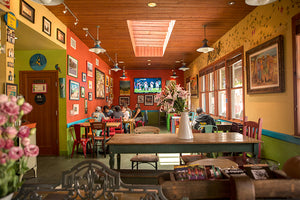 ---
Cafe Brasil with Helen Nishi
Words: Garrett Leight
Photos: Helen Nishi
---
It's somewhat surprising to me that I don't recall the first time I met Helen. My recollection of us is as if we already knew each other. That familiar period where you get to know a person, it just never happened for us. She was there and she was my sister. The countless late nights dancing to disco. Nonsensical eyewear fashion shows in my shop. The night she played me Dance Yrself Clean by LCD Soundsystem and told me it was a song her cousin from Brazil sent her—it completely had me going, my mind utterly blown.
Our first campaign at Gjelina. Our second campaign at the Santa Monica Pier. Our third in Ojai. Our fourth at June Lake. And so many since. Helen Nishimura aka Nishi is GLCO. Our first muse. She's been an unwavering part of all of it from day one. She even painted the GLCO wood letters that we hung in our first office on Electric Avenue. All the vintage frames she bought or wanted from my store—those were the frames that inspired so many of the original GLCO designs. If Helen was into it, I was into it.
I know this month we are bringing you some Brazilian flavor and I'm supposed to be doing a food story on Café Brasil, but honestly before this day I had never been there, nor had I ever heard Helen talk about it. It's an LA Brazilian staple, and it's fantastic of course, and you should go. There are plenty of traditional options from churrasco to pao de queijo to caipirinha.
However, the most important thing about Brazil as it relates to this company is that Helen Nishimura has been one of most inspiring and influential best friends since day one and she is as Brazilian as they come.
---