Sunglasses

Eyeglasses

Collaborations

Extras

Stories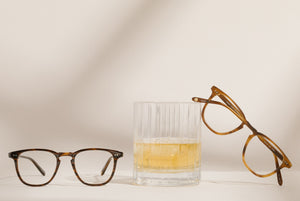 ---
Brooks and Brooks X
Inspired by the iconic, square frames that have graced the faces of hardworking men everywhere—from Vietnam era GIs to Hollywood OGs.
---
By Elena Doukas
Brooks was the second frame we ever designed, so creating a tenth anniversary edition was a no-brainer. We think of it as a classic, everyman look, because of its origins as the standard issue American GI frame. The original versions were boxy, included heavy metals like nickel and silver, and had a wide bridge meant to fit specifically male faces. They weren't exactly touted for their handsome qualities. Troops often referred to them as BCGs ("birth control glasses").
But in the same way John Lennon took the notoriously un-sexy British Health Care System metal frames and made them hip, the GI frame got some much needed support from cool guys in all corners of culture: Sammy Davis Jr. leant the look a dose of tuxedo'd, Rat Pack glamour, and Bernie Sanders, who stayed loyal to a similar style frame for twenty or thirty years, made it a standard in DC circles.
Back in 2010, when heritage menswear was popping, and photos of soldiers in fatigues with high-and-tight haircuts, and suited, Mad Men-era execs were on every designer's mood-board, the tailored Brooks quickly became a best seller for us. It was the go-to frame for the guy who read GQ and Esquire, scrolled blogs, and geeked out on vintage Red Wings and selvage denim.
For the Brooks X, we went back to the frame's origins — a slightly thicker, bolder style that still retains all the versatility of the original design. We think it's a fitting homage to the utilitarian frame that has become our Wayfarer — the timeless, bookish style that gets blessed by generation after generation of style-conscious guys.
---