Sunglasses

Eyeglasses

Collaborations

Extras

Stories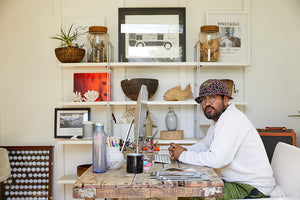 ---
At Home with Garrett Leight
As we navigate these uncertain times, human connections matter now more than ever. In our new series At Home with Team GLCO, we invite you to get to know the team and share how we're coping and staying connected in this time of social distancing.
Photos: Joshua Spencer
---
Meet Garrett Leight, Creative Director
Have you introduced any new routines or rituals since staying home?
In the past six months I have really started diving into health and wellness routines. I have a daily skin care routine, I practice daily intermittent fasting, meditation and exercise. I hike once a week in Malibu and work over there, which has probably been my favorite addition to my life, but the skin care routine is a close second.
What do you do when you need a mood boost?
Luckily I'm passionate about golf and it was only cancelled for a month back in March. If I'm truly in a bad mood and I can make time, going golfing helps tremendously. But I can also shoot hoops in the backyard, go for a run or a walk around the neighborhood, or just FaceTime a friend if possible.
What are you wearing? Favorite frames at the moment?
I wear a lot of our Mr. Leight collection because I love classic timeless shapes. It's a steady rotation of Getty and Marmont. When I want to go for a little more of a look I'm in our main line GLCO and wearing Kinney X, Calabar, Ace and Naples.
What are you watching/reading?
I'm mostly only reading books about eastern religion. The Tao Te Ching is always by my bedside, alongside Be Here Now, The Tao of Inner Peace, and a few others. I also like non-fiction autobiographies or biographies about influential leaders. I'm not really watching shows lately unless it's a lo-fi comedy or I'm rewatching a series I haven't seen in years. Low-key, like the lowest key, I love Real Bros of Simi Valley, it's on Facebook TV of all things and it's ridiculous, which is really the only visual content that I like right now.
What are you listening to?
Mostly feeling the mellow vibes right now. Lots of Jorja Smith, Kali Uchis, Daniel Ceasar, SZA, H.E.R, Ari Lennox. And always a heavy dose of roots reggae.
What's the best piece of advice you've received or can give during this time?
A friend told me that it's all about surrounding yourself with people you love and trying to be with them on the daily. I've really cleaned house in the past year. I'm no longer in Los Angeles county, deleted social media from my phone, and I'm more at peace than ever. One step closer to nirvana.
What's the first thing you're going to do when this is all over?
Nothing. I'm perfectly content, and living life exactly how I intend to right now.
---