Sunglasses

Eyeglasses

Collaborations

Extras

Stories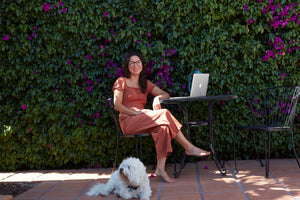 ---
At Home with Ashlee Willis
Get to know the team! In our At Home with Team GLCO series, we take a peek inside the daily routines of our amazing team members—find out which shows they're watching, how they're staying inspired, and the frames they can't live without.
Photos: Robin Harper
---
Meet Ashlee Willis, Design and Marketing Manager
Have you introduced any new routines or rituals since quarantine that have stuck with you?
Yes, my favorite new ritual has been skipping an old ritual, my alarm clock. For years I forced myself to be an early riser to either get a workout in before the office or just clocking in as early as possible after a lifetime of early bird getting the worm clichés filled my head, but that didn't necessarily mean I was more productive in the morning. These days I am enjoying a slower morning routine starting with some news in bed with my dog, Noodles, and a nourishing breakfast instead of a quick coffee and bite to-go. Beginning each day with a little more intention has helped fend off the Groundhog's Day feeling of the last year.
What's been the biggest challenge working remotely?
Sharing an office space with my partner. I never realized how loud he is on the phone until we were both on 5 zoom calls a day in the same 1500 square feet that suddenly felt like 50. I utilize my outdoor space as a second office most days. We did some final renovations early in quarantine and it's been our sanctuary ever since.
What do you do when you need a mood boost?
I bought a mini trampoline two weeks into stay-at-home life and it's ridiculously fun. Instant mood boost and it's actually a great workout. I'll also love to hop on my Vespa for an easy way to quickly clear my mind and feel gratitude for the sun on my face and ocean/mountain/desert/traffic view depending on where I find myself in LA.
What are you wearing? Favorite frames at the moment?
Navarre Sun is my current go-to frame for the summer. But being a part of the GLCO team for over 4 years now, I have an extensive collection that I rotate constantly. My partner had to build me a custom display rack to house just some of my frames. He also works in eyewear but somehow still complains I have too many glasses.
What are you listening to?
I've been leaning into the light, happy end of the spectrum of music over the last year. Part escapism and part trying to trick my brain into being positive throughout a pretty stressful time. A range of Beach Boys to Allah-Las with some Al Green sprinkled in.
What are you cooking?
A few months ago, I finally caved and started making sourdough bread. Now I can't stop with the sourdough starter. I've done a few bread variations, crumpets and pizza crust; next up on my list to tackle are bagels and pretzels. Carbs really are comforting during uncertainty!
What was the first thing you did when restrictions eased up?
Finally got on a plane for the first time since last February and went to see my family. It was the longest I had ever gone without seeing them. We definitely made up for lost time that weekend, I think I still have a hangover.
Anything you're particularly looking forward to in the coming months?
Eating out at a restaurant again and people watching. I've certainly sharpened my cooking skills during this last 18 months (hello sourdough bread), but I'm ready for more spontaneous happy hours with friends or a mid-week dinner date. I'm also ready for more travel. I'm so grateful to have had such a comfortable home space during this time but I'm also excited to leave it safely again.
---