Sunglasses

Eyeglasses

Collaborations

Extras

Stories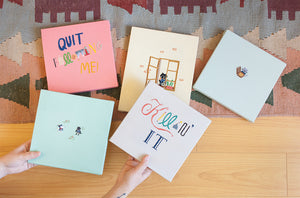 ---
---
You can trust Annie Seo to keep it young at heart. Just one look at her squad of sassy pigeons and stylish people and you'll see what I mean: the girl has a serious eye for the lighthearted details. Though I only recently met Annie through a friend of a friend of a friend, I'd be hard-pressed to find many people who can mention hot cheetos and professionalism in the same sentence like Annie can. Yep, she's in a league all her own.

Annie's an Angeleno, born and raised; she left the sunny streets of SoCal to study Illustration at Parsons in NYC, but she's back in town with her sunny outlook still intact. How do you come out of a city like New York as a twentysomething without caving in to its corners of cutthroat culture? How do you find a way to make light of the push and pull in the grown up world? Or perhaps the better question is, how do you keep a fresh pair of eyes? (Don't worry, we've got fresh eyewear taken care of). These are questions that my twentysomething self does not have answers for. But because we do Q&A's here at GLCO, and because we're big fans of all things unserious, we had to shoot over a "Yo!" and Q some A's. Annie obliged and sent us some cheeky drawings, all of which feel like a message doodled in wide-ruled margins by a friend, passed under the table, and ready for you to chuckle at. Youth rules.

How did you get into drawing? What drew you in? I've always been drawing since I was a kid, always been known as the "artist" or the "art kid," which inevitably led me to go to art school. Somewhere in those 4 years of being in school, "drawing" matured into a different word and lifestyle for me. It's not so much that something drew me into it, since I feel like I've always been doing it. Rather, it became something that I actually had fun with and started to enjoy.
You also branch out to ceramics and other media - could you tell us about that? Only just recently I picked up the courage to splurge on taking private classes at a ceramics studio. Since then I've been making and sculpting things I've been itching to create in 3 dimensional versions from my illustration. I'd like to continue on this ceramics path for a while. Once in awhile I also like to pick up the needle and do some embroidery.
---