Sunglasses

Eyeglasses

Collaborations

Extras

Stories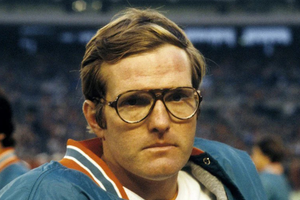 ---
'80s Athletes in Aviators
Meet the world class competitors who took rounded aviator-style frames and made them a signature part of their sporty style.
Words by Elliot Aronow
---
When you think of '80s athletes wearing sunglasses, what first comes to mind?
For anyone who grew up in the era of powerhouse body gods like Jose Canseco and Brian "the Boz" Bosworth, you are probably picturing a dude with broad shoulders and a sly smile rocking some angular polarized wrap around shades. Throw in a tastefully sculpted mullet and a Gatorade endorsement and it's a done deal.
Don't get us wrong, we love that Terminator shades-on-steroids look (see our homage to the Boz's iconic shades penned by our friend Josh Peskowitz here) but that super buff silhouette is only one side of a larger sartorial conversation that went down in that golden era of sports style.
Today, we are turning our attention to the smooth dudes who took rounded aviator-style frames and made them a signature part of their looks both on and off the playing field. Representing baseball we have former California Angel and Oakland A Bruce Bochte. On the football front, there's 2x Super Bowl Champion, 6x Pro Bowler, and lifelong Miami Dolphin Bob Griese. And from the world of track and field, we've got the Olympic gold medalist (and, randomly, Bobsleigh World Cup bronze medalist!) Edwin Moses.
For anyone who has an admiration for the flamboyance of a Jose Canseco or a Boz but isn't ready for the Total Image Commitment that their signature sunglass looks require, Bruce, Bob, and Edwin all offer great examples of how to rock a stylish and sporty frame in a much more natural and unfussy way.
The common link? They all wore double-bridged aviator frames. Drawing influence from the sumptuous rounded bumpers of the Porsche 924 Carrera sports cars that were super popular at the time, these aviator frames were a welcome departure from the more traditional super thin aviator frames of the past. Rather than invoking militaristic precision, they gave off a tastefully decadent, showbiz vibe, as was befitting of the era.
Our Harbor Sun and San Miguel styles give a modern update to the curved silhouette that Bruce, Bob, and Edwin wore with such aplomb back in the day. Both styles are unisex and play nice with everything from tweedy sport coats to track pants to a chambray work shirt. No matter what you wear them with, you are going to look like a champion.
SHOP THIS STORY
---