Sunglasses

Eyeglasses

Collaborations

Extras

Stories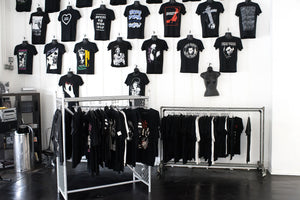 ---
Underground Gallery Guide - Part 2: Downtown Edition
Features /April 2, 2019
Words: Dustin A. Beatty
Collaborator Photos: Dustin A. Beatty
---
Continued from Part 1: Hollywood Edition
The LA art scene is dead; love live the LA art scene!
Lethal Amounts
While we're not keeping score, Lethal Amounts reigns supreme as the most punk rock gallery in the LA art scene. Founder, Danny Fuentes asserted that rebellious ethos with his first exhibition showing the work of punk photographer, Edward Colver. He was the unsung hero of the 70s and 80s music scene and didn't earn as much attention as his contemporary, Glen Friedman, and for good reason. Colver was more raw and had an aversion to what he thought about the bubblegum version with bands like The Ramones. Instead, he focused his lens on the unsung heroes like Nervous Gender and Throbbing Gristle. "I wanted to show a picture of El Duce taking a piss on a Go-Gos record before I showed another Black Flag photo," added Fuentes when I asked how he challenged the limits of that conversation. Since then, Fuentes has pushed his audience to not only consider disobedient art as important but to also reconsider the subject matter's relevance in the larger social conversation. In a bold move, Fuentes displayed the eerie clown paintings of famed serial killer, John Wayne Gacy, to question the value of art done by someone so dangerous to society. The through line extends to other shows that do a deep dive into graphic elements of techno culture, gender bending works, the bondage scene and a whole slew of producers of dark performance art. As the space gained momentum, Fuentes was even approached by photographer, David LaChapelle, to do a show. "It never came to fruition, but even the fact that we were contacted by his manager changed the tone of things," he added. Fuentes is afforded the luxury of intuition, and touches on his conscious effort to largely stay out of the art scene. This has worked to his advantage, as Lethal Amounts is a hub for creativity not seen anywhere else in Los Angeles—an intuitive approach that is reflective of Fuentes' taste that serves as a monument to rebellion, counterculture and the many ways artists break down the boundaries of tradition.
Little Big Man
While a number of underground LA galleries are a direct reflection of personal tastes with an identity that takes form over time, there are others that start unexpectedly with a strong sense of self rooted in other aspects of art. Gallerist and former professional photographer, Nick Haymes at Little Big Man, pivoted from snapping photos to a strong mission of publishing photography books that are "contemporary and exciting in an effort to keep the photo world from going stagnant." The evolution into a gallery came when the prolific Japanese photographer, Nobuyoshi Araki, asked Haymes to have a show around his mini series. As a result, his downtown Los Angeles live/work space was literally transformed overnight, earning notoriety within the LA art world. Haymes also connects the past to the present by partnering with new names in photography like Deanna Templeton whose voice is strong and independent of her husband, Ed Templeton. Both train their lenses on disenfranchised suburban youth; however, Deanna Templeton's show at Little Big Man lifted the veil off her own struggles with identity by exhibiting pages from her diaries, coupled with contemporary portraits of teenagers who likely share the same struggles in an age of uncertainty. While Haymes maintains that the space isn't set up for sales, any young collector would benefit by paying a visit to Little Big Man.
Nicodim
In 1974 artist Chris Burden thought the art world needed a little shock and awe so he crucified himself to the hood of a Volkswagen Beetle as part of a performance art piece. Around the same time, Burden's contemporary, John Duncan, knocked on the doors of friends disguised in a grotesque mask and fired a gun loaded with blanks straight into their faces and then ghosted into the night, only to later reflect on the terror that ensued. While Burden has since passed away, Duncan resurfaced after thirty years in exile for a performance piece so vile, he exiled himself to Japan, and for good reason. His contemporaries and the general public who were aware of his lewd act on a corpse shunned the artist for what was his final "tour de force" on American soil — until Nicodim Gallery in downtown Los Angeles provided the venue to revisit the grotesque display of the artist's work. Duncan is precisely the type of artist who fits the mission of art dealer and gallery owner, Mihai Nicodim, who is well-versed in the works of artists he was forbidden to see in his native country of Romania. With the help of director Ben Lee Ritchie Handler, Nicodim not only represents a number of international artists who ruffle feathers but also supports a long roster of less abrasive talent who often get the opportunity to exhibit at the namesake gallery here in LA.
These Days
One of the challenges with the LA art scene is the communal aspect, especially in the high art hubs inflated with the hot air of pretense and fancy parties where lines at the bar far outweigh the engagement with the works themselves. As an answer to that, These Days' founders, Stephen and Jodi Zeigler, created a rebellious oasis in a blacked out three story walk-up, like something straight out of the East Village during its heyday. "If you've never gone through a period in your life where you've asked yourself, or God, or anyone else 'What the fuck is wrong with me?!' These Days isn't the place for you," Stephen added when asked about their mission. The idea for opening their downtown Los Angeles space came after a trip to Thailand where they experienced the influence of running a combination gallery, shop, and publishing house. Living across from what at the time looked like a derelict LA relic put them in the position to pounce on the opportunity when the vacant sign went up. A lot of time, effort, and tenant improvement transformed the building into an intimate gallery for artists to show and a small shoppable space that carries books, zines and works from current and past projects. Those shows range from a look at the art of punk past with Raymond Pettibon's flyers, a cache of counterculture posters from 1967-1975, celebrating the creative culture of skateboarding, and solo exhibitions of disobedients hell-bent on trumpeting their voice in the underground community. These Days is almost like a living, breathing magazine that engages you in a conversation between your own personal tastes and the tribe that surrounds it.
---