Sunglasses

Eyeglasses

Collaborations

Extras

Stories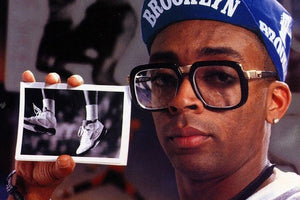 ---
Spike Lee
A visionary director's eyewear always makes a statement.
---
When She's Gotta Have It came out in 1986, it was the first portrait of the Black urban experience of its kind – lacking all the stereotypical depictions Hollywood had so long relied on. Though critically acclaimed, it was Spike Lee's third film, Do the Right Thing, that catapulted him to the upper echelons of contemporary filmmaking and left an indelible mark on the culture.
From 1990 to 1995, Lee's films explored racial tensions, politics and New York with an unflinching eye. All the while his eyes were covered in some of the most expressive eyewear around. You can track Spike's love for frames through his films of the era – both on him (in School Daze or Mo' Better Blues) and his protagonists (Wesley Snipes in Jungle Fever or Denzel Washington in Malcom X). Lee's films always have had compelling narratives, but equally important has been his contribution to the atmospherics of film. From music, to color saturation, to costumes and glasses, Lee's signature style has influenced generations of filmmakers.
Lee's penchant for flamboyant frames has progressed from somewhat subtlety gilded, through chunkily oversized (who can forget his turn at Mars Blackmon in Cazals yelling "it's gotta be the shoes!" for Michael Jordan and Nike's famous campaign) to colored acetate to his outfit or his team loyalty. And usually both.
Lee finally won a decades overdue Academy Award in 2018 for BlacKkKlansman, showing Hollywood's appreciation for his continued contributions to filmmaking. And in 2019, Lee paid tribute to his late friend Kobe Bryant on the Oscar Red Carpet in a custom tuxedo, showing his appreciation for the City of Angels.
---