Sunglasses

Eyeglasses

Collaborations

Extras

Stories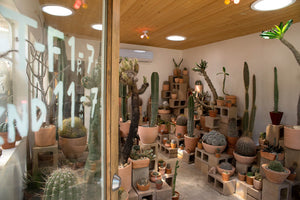 ---
Hot Cactus
WORDS & PHOTOS: Dustin A. Beatty
---
How Hot Cactus came to be is a story steeped in legend and lore. Cofounder Carlos Morera remembers collecting from an early age under the influence of his obsessive uncle, John; the passion for plants runs in the family. As a child Uncle John would hop on the bus to visit the famed Yamaguchi and Hashimoto nurseries on the Westside. Later he trained under John Naka, the legendary bonsai gardener who populated parts of the Huntington Gardens. Uncle John would take Carlos on hikes all around LA, grooming him for the tedium it takes to trim, clip and nurture something that could grow to be a thousand years old.


Carlos' collecting days came later: "I started to collect fifteen ago in New York strangely. There was an old man who had a sort of junk shop on 11th Street and he had this one window filled with perfectly potted, top-dressed specimens. I'd never seen cactus presented that way so I bought a few from him and started collecting more heavily." Fast forward ten years, when Carlos was working with architect Jeff Kaplan on realizing some projects for Commune Design. Both were focused on an exit strategy and found themselves in a small studio up on Echo Park Avenue, a stone's throw away from the current cactus shop. "It was a creative space to come up with ideas. We drove by this spot and to us it looked like a hobo bar in Joshua Tree. Things instantly clicked." Inspired by their work designing desert houses, they "wanted to create a feeling of what it's like to first zip open your tent from being inside to out, to explore the relationship between a building and the landscape," Jeff explains. After cherry picking from their personal collections and convincing John to come on as a partner, they made quick work of curating the space with rare specimens from all over the world. "It was essential for us to have an insane variety in here," describes Jeff. "We don't try to keep more than two species of a kind in here at once. There are 150 kinds of cactus in here we have to find different sources for. One plant might come from the Mojave while another comes from Czech Republic. One might come from Italy and another from a dead collector's greenhouse. As collectors we were a source but we had to fill in the gaps."




And if these plants could talk. Hot Cactus' Christian Cummings tells of the botanist who impersonated a naval officer in the 1960s to get into Somalia and find the slowest growing cactus on earth. Or the freakishly obsessed digger who rode a bicycle around the world a few times, almost meeting his end from heat stroke in the Mojave covered in the hitchhiking Cholla cactus. What he thought was heaven was actually a brothel and his guardian angels turned out to be harlots. "Christian wanted to name the patio after another famed cactus poacher who only exists on Internet threads. He became obsessed with him and tried to find his fake seed catalogs. He introduced us to this level of lore, mystery and myth that exists in this world," explains Carlos further. These stories help sell a specimen to the would-be buyer who balks at the price tag. "We try to get a sense of what they're looking for and why they're looking for it and maybe try to steer their premeditated way of thinking. A specimen that has grown at 7,000 feet in the Andes and is beat down by so much sun that it's developed its own blue sunscreen isn't going to work in the corner of your loft. They're decorative in some senses but they're not decoration. They're sentient beings that you have the honor of watching slowly change and grow. A cactus is such a testament to resilience and adaptation. We really try and push that when people want to adopt," Carlos adds.




Customers come from all over, ranging from first-time buyers to those searching for the Holy Grail. The team keeps an old school ledger that doubles as a wishlist and inspiration for future buying trips. Recently a woman wrote down Welwitschia, one of the oldest plants on earth and found only in Yemen. The landmines left behind during the country's civil war guard it from poachers. "Their existence is really humbling," Jeff reflects. "To educate someone on that idea often turns into appreciation. Some people walk into the store once and then become obsessive collectors. Everyone who works here is really passionate about it so hearing these plants talked about in that way generates a lot more excitement. It gives them the respect they deserve." Expect to see a book this year published by LA-based Hat & Beard Press that includes more of these stories and chronicles the next chapter in the lives of these botanical gypsies. Their influence will also spread across Southern California as they develop more landscape projects and introduce a new shed-making technique borrowed from the Japanese under the name Cactus Store Gardens. And keep an eye out for a bespoke line of fertilizer developed from decades of experience catering to the nutritional needs of all varieties.



In the meantime Visit Hot Cactus at 1505 ½ Echo Park Ave in LA or online at HotCactus.la.

---